Artículo relacionado:
Nobody is going to bail out Venezuela
Henkel Garcia U, Andres Bello Catholic University (UCAB), November 14, 2017 9.11pm
Henkel García is the director of Econométrica IE, C.A., a Venezuelan economic analysis firm.
Venezuela, the South American country convulsed by economic and humanitarian catastrophe, has defaulted on some of its debt after missing an interest payment due in October.
Even as investors meet in Caracas to discuss restructuring US$60 billion in foreign debt, the country is in urgent need of international financial assistance.
Yet few nations are rushing in to aid the ailing country. Under the authoritarian regime of Nicolás Maduro, Venezuela is isolated in Latin America, and the United States, Canada and the European Union have all imposed sanctions against Venezuelan officials. Maduro has at times suggested he would not even accept humanitarian aid.
Still, no indebted nation is totally alone in this world. As a financial analyst, I know there are always international players who see opportunity in the problems of others. And for Venezuela, my home country, all hope of a bailout rests with China, Russia and the International Monetary Fund.
Will they do anything to help?
Venezuela's debt: By the numbers
Before exploring a possible Venezuela rescue, it is useful to understand how the country's debt became such a burden.
In 1998, the year before the late Hugo Chávez came into power, Venezuela was rich. It produced roughly 60 barrels of oil per inhabitant per year. By late 2017, my projections – based on data compiled from Venezuela's National Statistics Institute and BP's World Energy Report 2017 – show that production will have dropped to 20 barrels per capita. That's a 66 percent drop in 20 years.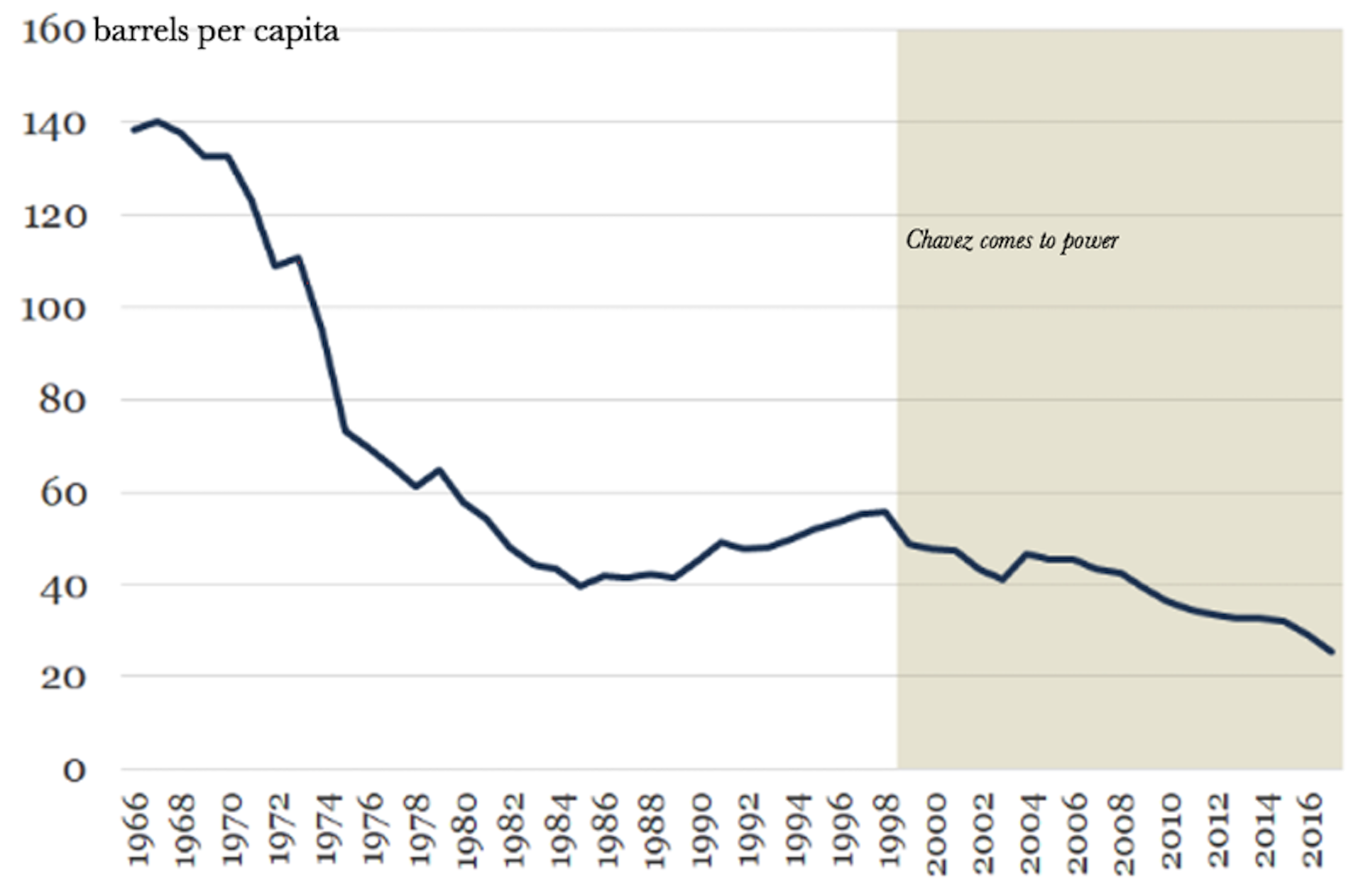 Oil output per capita in Venezuela has dropped significantly in the past several decades. Henkel Garcia/BP Statistical Review of World Energy 2017/National Statistics Institute, CC BY
Even as output steadily shrank, Chávez benefitted from relatively high oil prices, which allowed him to boost revenue from petroleum exports. And as oil sales rose, so did government expenditures, as well as imports of food and other goods.
Eventually, excess spending took a toll on Venezuela's international reserves. Rather than cut expenditures and imports, the Chávez regime piled up foreign debt.
Seguir leyendo:
https://theconversation.com/nobody-is-going-to-bail-out-venezuela-87428